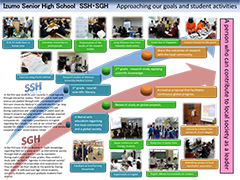 Approaching our goals and student activities(PDF)
SSH
In the first year students gain capacity to think logically through interactive studies. Their interest in math and science are peeked through visits and research work at Shimane University Medical School and also through long-distance classes from research institutions abroad.
During sophomore and senior grades, students work on research projects applying scientific knowledge acquired through cooperation with universities, institutes and companies etc. They make presentations in English regarding their results, not only at our school but also outside the school, and disseminate them to local society in cooperation with Izumo Science Center.
SGH
In the first year students develop in-depth knowledge regarding their local areas as well as international society through field studies and lectures by specialists.
During sophomore and senior grades, they conduct a study with the theme "agendas in international society", closely working with universities and corporations etc. They disseminate their results to the world by sharing their research with overseas high school students, university students, and post-graduate students from abroad.
Approaching our goals and student activities