On July 26th and 27th, a two day event called Global Session was held at Shimane University.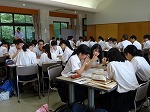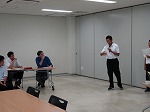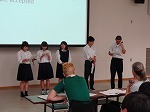 Izumo High School is a designated Super Global High School (SGH). Since entering the school, students have conducted research projects about social and cultural topics. During the Global Session event, students gave presentations about their research in English. This would be the final activity for their projects.
On the first day, Ms. Iwata from the Japan International Cooperation Agency (JICA) and Mr. Nakamura from Tsuwano Education Coordinator in Shimane Prefecture were invited to this event to present workshops. Their workshops centered on the theme "Think about the world and Shimane through Sustainable Development Goals (SDGs)".
On the second day, Izumo High School students gave presentations about their research in English. Professors and students from abroad attended the presentations and they asked students a lot of questions about their work and participated in discussions. It was a great opportunity for the students and attendees to exchange ideas.
We hope the Global Session event will be useful for the student's futures and career goals.