Our global session were held on Thursday July 27th in Shimane University.  This program begin last year.
Our school is designated as Super Global School (SGH) from Ministry of Education. The students are in the research program and this global session is for last year of High School Students participated.  During 2nd Year of High School, they begin their research and as a closing of research, students prepare presentation in English and at Shimane University.  So the entire program is to deepening the study of research.
On first day, we invited Ms. Kazumi Iwata from JICA and Mr. Junji Nakamura from Tsuwano Education Coordinator and held a work shop to think about Shimane from the world point of view.  Ms. Iwata defined present issue of the world and group had time to think about it.  After that, Mr. Nakamura explained the life in Madagascar.  As last step having the chance to listen to global point of view, the students discussed about attraction of Shimane using KJ method and each group gave presentation.
In the afternoon, Ms. Naomi Kagawa from Shimane University school of education was invited and gave presentation on "tips on how to give presentation and having communication with audience".  Students learned how to give great presentation with videos and some tips and some students has improved their presentation for the next day.
Day 2, Friday July 28th, we will have a report on givign presentation at Shimane University Exchange students building.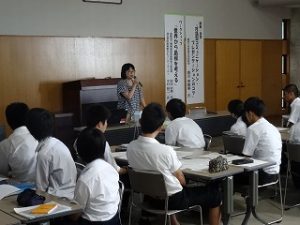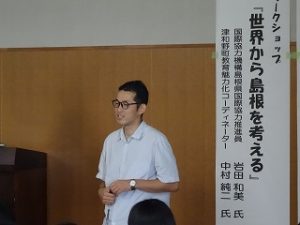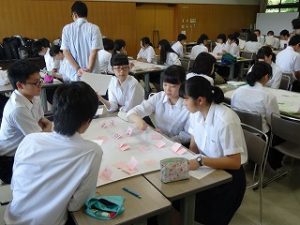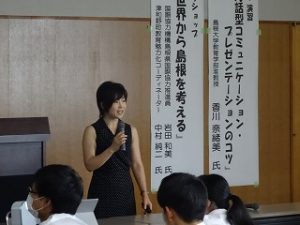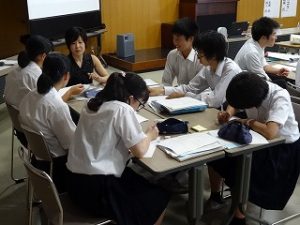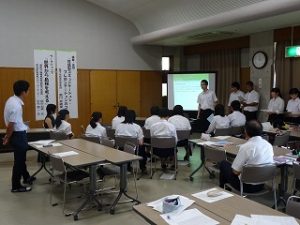 Global Session in Shimane Univeristy (Day 1)