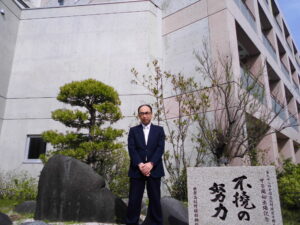 Welcome to our website.
My name is Yuji Tatano. I am the new principal of Izumo High School. I am a member of the 32nd graduating class and worked for this school for eight years from the 10th to 17th year of the Heisei period in the Japanese calendar (1998 – 2005). I am bracing myself again and determined to work even harder at my alma mater. I would like to be flexible in adapting to the current situation while preserving the tradition we have inherited.
The English version of this website will be updated when possible.
– Yuji Tatano
– Shimane Izumo Prefectural Senior High School principal
Greetings from our School Principal