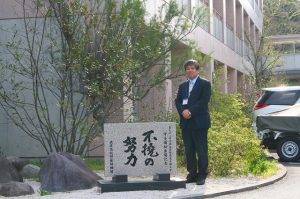 My name is Yasuhiro Matama. I am the new principal of Izumo High School. I am pleased to have this opportunity to introduce our school to you.
Izumo High School was established in 1920, originally as Shimane Prefectural Imaichi Girls High School. Since then, it has continued to grow and become the historic and prestigious school that it is today.
Our school is nationally recognized as a Super Science High School (SSH) and Super Global High School (SGH). Participating in these programs for our 6th and 5th years respectively, these programs provide our students with the opportunity to perform scientific research and participate in international exchange. Furthermore, these programs allow us to educate and inspire the next generation of Global Leaders, and in turn advances our own curriculum and relationships with educational institutions and other countries.
Athletic performance is also an important aspect of school life here. Our sporting teams have continuously increased their performance at the school and prefectural levels. In 2016, our baseball team won the prefectural tournament and proudly represented Shimane Prefecture for the first time in the National High School Baseball league, Koshien.
At Izumo High School, independence, academia, activeness and harmony are core ideas of our school spirit, Kyucho. This spirit reminds us that our goals can be achieved through sincerity and effort. In this way, we can act to become Global Leaders for local and global society.
Our school will reach its milestone centenary in 2020. I hope we can work together to continue supporting our staff, school and students in all its endeavors until then and beyond.
Sincerely,
Yasuhiro Matama
Principal
Izumo High School
Greetings from our School Principal