Four of our students participated in Global Science Campus  Hop Stage in Hiroshima Univerisity on Sun. May 28th.
This project has been established to educate future global specialist in science technology and organized by national Reserch and Development.
About 240 enthusiastic students on science research listened to two lectures "Science Literacy" and "Reserach Ethics"
We hope our participated students to work together with students from all over Japan and move on to next stage and become leader of science technology in near future.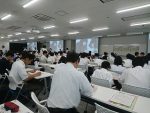 GSC(Global Science Campus)