Tuesday May 24th, we invited 2 Coordinator for International Relations  from Izumo City.  Our seninor students begin to prepare English Presentation with them. 
Our Seniors will give presentation and hold disucussion time in "Global Session", which will be held in July 25, 26 at Shimane University. 
62 members of Seninors (12 groups) researched on Internationalizm&Culture last year. Students resarched on various interesting topics and  some of the group researched on "What should Japanese people do to become better English Speaker?", "Why Japanese gardens are build in oversea countries? " etc.  We are looking forward for students to shape their presentation to explain to oversea people. 
This day was second day for the project and students made a plan for presentation in English.   Mr. Alexisander Chen and Anna-Kaisa Havarinen from Izumo City were invited and the students worked hard and talked with them in English and learned how to express in English. 
This work session will be held 5 more times until July 25, 26th.  Izumo International Representatives, Prefecture International Representitive, Educational Association Staff will be coming to our school.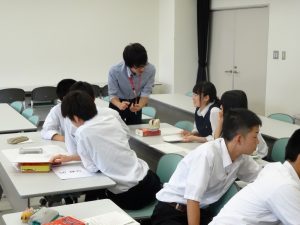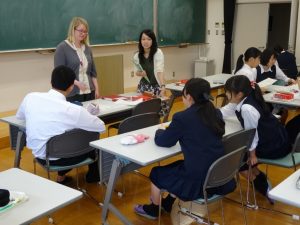 Preparation for English Presentation Begin!