Freshman Kaylegh Watanabe visited 2 days in Izumo High School from our sister city Santa Clara, USA last week.  She wore school uniforms and took classes with our students.  Some teachers taught class in both English and Japanese. 
Her father, Mr. Watanabe and Izumo International Exchange Association chairman and post chairman visited our school on 16th morning.  Our school principle welcomes them and they walked around the school and had discussion in school principle's room afterward.  Mr. Watanabe was surprised and also happy to see the books in the library since there are less books exists in American Library these days.  Mr. Watanabe also shared Silicon valley and Santa Clara's present challenges that they are facing now as a society. 
The group of students from Santa Clara went back home after a week stay in Izumo! 
Thanks you all for visiting Izumo.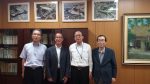 Santa Clara Student stayed with our school.