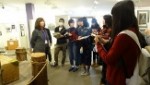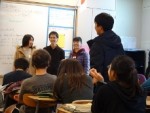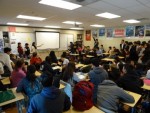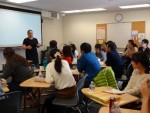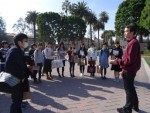 Sixteen students of Comprehensive Course visited Santa Clara from 23rd to 29th of January 2016 as a SGH Study Trip. Santa Clara Sister Cities Association (SCSCA) kindly helped to arrange the homestay families and ten families including Wilcox students' families hosted our students during their entire stay.
Saturday Jan. 23rd: After arrived at San Jose International Airport, they visited Japanese American Museum to learn the history of Japanese immigrants. SCSCA kindly arranged a welcome party for Izumo students and their host families.
The students enjoyed their Sunday with each host family.
Monday Jan. 25th; They visited Wilcox High School and spent a whole day with their buddy students. The students participated the classes of Math, Chemistry, Japanese etc. Izumo students made 4 presentations regarding their research studies and exchanged opinions with nearly 100 Wilcox students gathered.
Tuesday Jan. 26th; They had a campus tour with an orientation of campus life at Santa Clara University in the morning. Then they moved to Mission Community College for joining the Global Citizenship class and discussed with multi-national students how to get the correct information out of so much information we get daily. In the evening, some of the students also visited Intuitive Surgical, Inc and experienced demonstration of worldly-known "da Vinci" surgical robot.
WednesdayJan 27th; The last day started with visiting Santa Clara City Hall to learn its environmental policy including energy and sustainable development. They moved to Apple for a lunch meeting with Japanese workers. Nine people kindly shared their time for Izumo students and advised them on their study or their future career. The students were very much inspired. In the afternoon they moved to NASA Ames Research Center and studied about Vertical Motion Simulator, MILT 3D scanner and Super Computer as well as Quantum Computer. It was a nice surprise and honor to have a retired astronaut as an expounder of VMS and to meet the inventor himself of MILT.
The students actively participated in each activity and communicated with lots of people there. They learned various things throughout their stay and we hope they will keep their gratitude to the people in Bay Area for their support to this study trip. We also wish them apply this precious experience to their future.
SGH Study Trip to Santa Clara