Wed. May 25, 16 students who has been to states last year Skyped with Santa Clara (USA) Wilcox High School students.   Our students went to the states to give presentation on their group research and had field work with US government and companiese. 
The skype sessions were held 2 times a month since last September and it was concluding session.   The students expressed what they have learned, achieved etc.  In addition, ten of  student teachers also joined the skype as well.  The students build nice friendship over the the study trip so the students were relaxed and exchanged opinions. 
We think the individual students will continue their friendships but it was last day in school as a group.  The juniors of the students wil begin new skype session with Wilcox High School students soon. 
The skype session and study trips were very meaningful and became preciosus experience in the life for those who attended this program.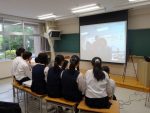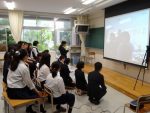 Skype Session with Oversea High School Students