Monday May 15th, Annual 1st training for SSH&SGH was held.
Assistant Proffesor Mr. Yuichi Fujimura from Graduate School in Naruto University of Education Educational Research depeartment gave us the lecture on "How to use ICT equipment effectively".  Our school implimented projector, screen and other devices in all of our class rooms in April and we are implimenting progressive communication with students to deepen our classroom lessons.  Our trainin was very meaningful to us for our future teaching.
There were over 20 educators (from prefecture and other high school faculty members) came to attend our training.  After the training, 6 staff demonstrated how to use the equipment and explained how the class lessons can be improved.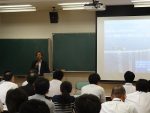 In the future, we will advance in SSH・SGH teaching method and we will be informing you with our progress internally and externally.
SSH・SGH Faculty Training (2017)