Monday July 17th, 14 volunteers from 1st and 2nd graders gatherd in Izumo Oyashiro to guide exchange students in Shimane Univeristy.
The exchange students are here in Japan for Summer Program and there are 7 from the USA and China.  The students explained history of Izumo Oyashiro and how to pray in teh sthrine etc in English and their gestures.  The students experienced the challenges and joy of communications in Elighs.  After the walking around the Izumo Oyashir, they all had lunch in Kanko Center, Izumo had great time chatting.
The half day went by really quickly and when it was about to go home they took photos and exchanged contact information etc.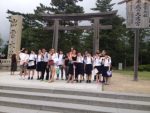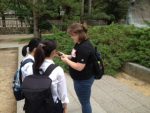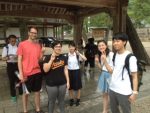 Volunteer Tour Guide at Izumo Oyashiro