Suceed in cultivation and isolation of Ophiocytium capitatum Wolle!
○This type responce to lack of Fe in great amound.  We confirmed and found that various formation occur in two different environment.
1.  Remove FeEDTA from CA medium for 3months.
2.  Control for 6 months.
○We have confirmed that Asexual reporduction is self spore and depends on metrocyte its length and thorn existance varies.
In Pasher's「suβwasserfrora von Mitterueuroppa band3」 both side of metrocyte is off to be self spore but we confirmed that is only one side is off.
○Up to present, mamy seeds which were classified in type Centritractus and type Ophiocytium is morphological change of Ophiocytium capitatum Wolle cased by  deficiancy of nutritive salts.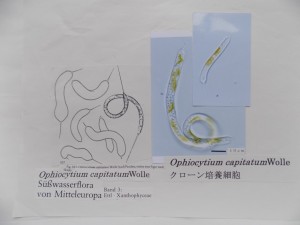 World First Sucess!!! Biology Group suceed in clone cultivation!