Welcome to our website.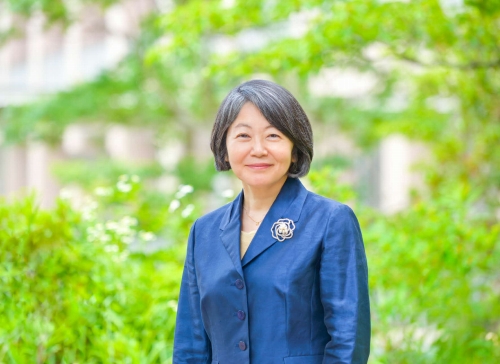 I am Yoko Muramatsu, the school principal. I am very excited to be working at Izumo High School, a school with a rich history and traditions. I am determined to carry on the good traditions passed down from generation to generation, while at the same time remaining flexible and responsive to current trends.
Our school celebrated its 100th anniversary in 2020 and is one of the leading preparatory schools in the prefecture, steeped in history and tradition. Students and faculty members work together enthusiastically in their studies, research activities, club activities, and student council activities.
With the generous support and cooperation of universities, businesses, government, and the local community, we have been working to improve our educational program and enhance our inquiry-based learning through the Super Science High School (SSH) program, which has been continuously recognized since 2013. By improving our educational program and enhancing inquiry-based learning through the SSH program, we will strive to make our school's education even more attractive so that our students can develop the qualities and abilities needed to play an active role in a rapidly changing society.
Since 2020, despite the ravages of the spread of coronavirus infections, students and faculty members have continued their educational activities by making various efforts, such as online initiatives, and have demonstrated their strength in many areas including their academic achievements and club activities. 
Without stopping this momentum, under the slogan "independence, collaboration, and challenge," we will continue pursuing the following vision based on our school policy and grand design (school management policy, etc.) described elsewhere. We will aim to develop students into the image we wish to nurture: human resources who can contribute as leaders in the community and society, capable people who will lead the creation of the nation. We will continue to take on challenges with a forward-looking attitude, without fear of failure, and take a step forward into a new era as we enter the next 100 years.