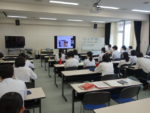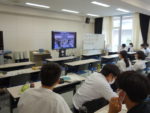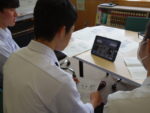 On Friday, July 31st, our 3rd-year students in the liberal arts program gave presentations to the audience at Shimane University.  In the past several years, they usually visited Shimane University campus in Matsue, but this year, they held a Zoom online conference for the first time due to the current situation caused by coronavirus.
"The global session at Shimane University" is aimed at the following two things:
1. review the research the students conducted last year
2. develop the skills necessary to be global leaders in the next generation through presenting their ideas and exchanging opinions in English
Though the students only had a short time to prepare for their presentations this year because of school closure for over a month, they did their best in preparing and trying to answer the questions from the audience in English.
We would like to express our deepest gratitude for their time and effort to the professors at Shimane University, Professor Harumi Ao (Center for International Exchange), Professor Lieske Carmella (Center for Foreign Language Education) and Assistant Professor Katherine Simpson (Center for International Exchange).
Virtual Global Session 2020